My Downloads
PaperNotes
Some time ago I wrote a tiny program (as tiny as VB 6 allowed me to make it). Then I made it work really well. Then I tested it, and found out that it actually might be useful for someone else. Then I called it Paper Notes and posted it on the Web.

Know the 'sticky' yellow notes? That's the same thing but for the screen.
Some of my competitors (if there are competitors) call their programs 'sticky notes'. Frankly, I don't like the word sticky. So I called mine Paper Notes. Hope this sounds better :)

That little program was so sophisticated, that testing of it took only a few years ;) I'm kidding.
...it simply lives on my PC all these years...

Here is my spartan Win2K screen: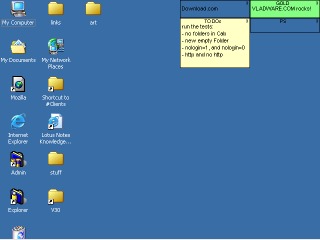 And here is how it looks on Windows XP. Please notice the transparent Paper Notes on the screen: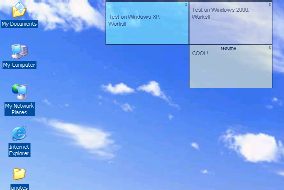 How to Install?
If you want to try PaperNotes - the ZIP file is HERE . (1)
It has two binaries in it, if you run the EXE, it will autoinstall the DLL and start working.

For those of you who hate zip files there is a nice Setup program HERE . (2)
This one installs the two binaries where they (I think) are supposed to go- like Program Files folder, etc, makes shortcuts for you, and all nine yards.

For those of you who would prefer Lexus over Miata here is the full SETUP. (3)
This one extracts all sorts of stuff, like VB runtimes, readmes, etc. And yes, it does everything that #2 does, too.

(There is no need to install all 3. Choose the right one and run it.
In most cases #1 or #2 needed only.
But some rare beasts, and your machine can be one of them, do not have VB runtimes (VB stands for Visual Basic). I would be really surprised to see one ;) To tame that animal, go ahead and pull the runtimes from the MS WebSite . Or simply run #3.)

Update! The version offered above is 1.0.6. Some people say it's too basic.
Now here is the 1.0.8 update: download it from here.
(no need to uninstall 1.0.6, just make sure PaperNotes is not running before doing the upgrade)


Important! The main difference between PaperNotes and other similar programs is that you can use it in your projects. You can use the ActiveX DLL that goes with it, or you can download the Source Code, play with it, and see how it works.
Cheers,
Vlad

p.s. if you like User Manuals - check out this page.
Awards
I host my domains at 1&1